Pastor Ng'ang'a convinced he can cure Coronavirus using his guitar
tuko.co.ke 03/31/2020
- Pastor Ng'ang'a believes Kenya is still not about to go to the dumps and hopes people will realise the country is God's chose nation
- The preacher said he is willing to cure 20 patients if the government gives him the chance
- Ng'ang'a said he and his colleagues will just need a closed room, no gloves, some privacy and his powerful guitar to do his work
- He added that he wants to show people how his power can serve the nation during these trying times
With the rise in positive COVID-19 cases around the globe, scientists have been on a rush to figure out the proper treatment that defeats the disease.
But one pastor Ng'ang'a of Neno Evangelism believes the race against time is a waste of resources and efforts. Why? Because he thinks he has the cure.
In a video circulating social media, the self-proclaimed evangelist pleaded with the national government and the international fraternity to give him permission to cast away the stubborn scourge.
According to the preacher, he and his colleagues can use his powerful guitar to kill the disease and put an end to people's suffering once and for all.
Ng'ang'a said all he needs is a "go ahead" from the government and the rest will be sorted out.
The pastor pleaded with the authorities to give him just 20 patients and allow him to stay behind closed doors with them without any sort of interruption from outside.
He maintained that he has the power to use his guitar to worship God and convince him to cast his healing hands upon the ailing.
The energetic pastor then stated if given the chance to speak healing into the lives of the sick, he would not even use gloves or touch the ailing.
All he would need to do was sing and move towards them then healing would befall them.
"If the government just gave the opportunity and brought me those patients who suffer from this virus, I would try God because he told us to try him," he said.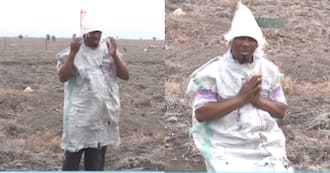 He asked Kenyans not to panic because such emotions bring about spiritual confusion. The pastor was sure this is not the end of the country or the world.
Ng'ang'a added that Kenyans need to count themselves lucky because the deaths are not as rampant as they are in other countries. Apparently, that is a sign of God's love for the nation.
The preacher who is in his 60s has always been known for his boldness and unapologetic nature.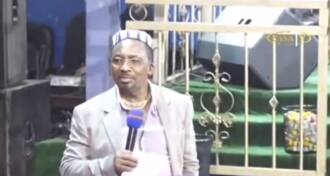 The pastor has time and again claimed he has the power to heal the sick and cast out demons when called upon to.
Once when notable gospel singer Rose Muhando was struggling with sickness, he was captured in a clip trying to cast away her troubles as she rolled and twisted on the ground.
Heri tupate Corona kushinda teargas: Kenyans tell Government over Curfew and fare hikes | Tuko TV
Source: Tuko