Senator Ledama Apologizes to Dennis Itumbi With a Special Gift
Faychep 06/25/2020
View pictures in App save up to 80% data.
Days after controversial blogger and former Digital Communications Strategist in State House Dennis Itumbi, revealed that the former Prime Minister Raila Odinga had been secretly flown to Abu Dhabi in United Emirates to receive treatment, the truth has finally manifested itself, despite most of ODM brigade denying Itumbi's claims.
Among those who took to his twitter account to rubbish Itumbi's sentiments was vocal Narok Senator Olekina Ledama. Ledama told off Itumbi telling him that the ODM leader had flown to Democratic Republic of Congo and was attending to his diplomatic duties.
"Nonsense why the hell are you lying to Kenyans ? Please take a chill pill. @RailaOdinga is doing well and attending to his official duties wacha fitina boss!' tweeted Ledama after Itumbi's post.
View pictures in App save up to 80% data.
Itumbi had on Monday detailed how the ODM boss had secretly flown to Dubai from Wilson Airport. He also named the persons who had accompanied Raila including his daughter, body guard and a neurosurgeon as well as the aircraft model he had boarded.
And on Wednesday evening, Raila Odinga's family came out to confirm Itumbi's claims that Raila was indeed in a Dubai hospital for minor thus ending days of speculation on his whereabouts.
Revealing Raila's whereabouts, Dr Oburu Oginga, told the Nation Newspaper that the former prime minister left the country on Sunday for Abu Dhabi UAE.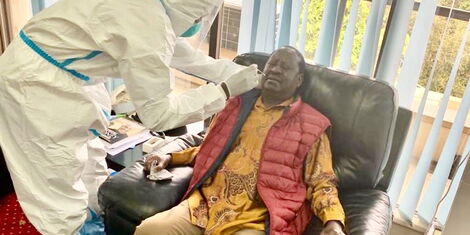 View pictures in App save up to 80% data.
"Jakom (Raila) is out of the country for a minor surgical operation on his back. It is not a serious health issue, but just a minor one. So, he's okay," Dr Oginga communicated.
Immediately after the confirmations, Itumbi took to his account to ask an apology from Ledama for abusing him when he was telling the truth. He requested hm to hand him a HE GOAT as an apology.
"Bro, @ledamalekina I think you owe me an apology, a HE GOAT would be fair settlement. Ama namna gani?" tweeted Itumbi
View pictures in App save up to 80% data.
and as a gentleman, Senator Ledama heeded to Itumbi's request and apologized with a HE GOAT, which Itumbi shortly confirmed that he had indeed received,
View pictures in App save up to 80% data.
While hailing Ledama for honoring his promise, many argued that politics should not be taken at a personal and that Kenyans should always be ready to forgive and embrace each other,
"Yes you are bro. I confirm the HE GOAT has landed. We keep going, we keep chasing our dreams. Different styles, different hustles, same result - the tireless pursuit of our dreams" responed Itumbi.
View pictures in App save up to 80% data.